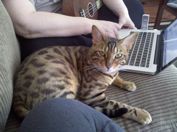 I am amazed and thrilled to have have been named one of FierceHealthcare's "10 Bloggers We Are Thankful For."
I am in delightful company as the other nine bloggers are writers I read and admire.  33Charts is one of my very favorite blogs, both because of the focus on social media in healthcare and because I just really like Dr. V's writing.
There aren't many practice management-related blogs on the web today, but some I recommend are pediatricinc.com (Brandon Betancourt) for insights from a pediatric manager married to a pediatrician, and practicemanagersolutions.com (Rebecca Morehead) for great motivational commentary and practical advice.
Don't forget to stop by www.fiercehealthcare.com and visit their sites on healthcare IT, practice management and finance.
What blogs do you read and recommend to the readers of MMP?