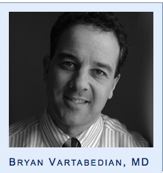 Grand Rounds is a weekly summary of the best healthcare writing online, featuring stories, opinion and analysis from doctors, nurses, patients, researchers and administrators, as well as journalists. Each Tuesday, a different blogger takes the helm, publishing a new edition of Grand Rounds on their site. Each edition features the host's picks for the ten best healthcare links of the week.
This week, one of my very favorite bloggers hosts Grand Rounds, Dr. Bryan Vartabedian of the famed blog 33charts.com. Dr. V. is a pediatric gastroenterologist at Texas Children's Hospital/Baylor College of Medicine. If you've never read Dr. V's blog, try it – his writing is excellent.
Here's his intro:
Welcome to this edition of Medical Grand Rounds.  I scoured the web and pulled together what I think are some of the more interesting posts and news items of the past couple of weeks.  I've tried to explore some voices that perhaps haven't crossed your radar.  We've got sociologists, medical students, IT gurus, medical futurists and even a couple of doctors.  Some of the discussions have related posts that you might find interesting.  Posts are not listed in any particular order.
Give yourself a little gift and click here to read Grand Rounds.