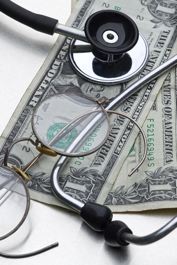 My post from 2010 on how much healthcare managers make is one of my most-visited posts ever. It's time to revisit the data and talk about the direction healthcare jobs are taking.
First, some clarification on Office Manager, Site Manager and Practice Administrator titles and job descriptions.
The Office Manager title applies in two situations:
The first is the top position in a small medical practice (three physicians or less) supervising at least two employees. In addition to managerial duties, the office manager often functions in a full-time or part-time staff position, either at the front desk or as a biller. The Office Manager in this situation does just about everything including the three Ps – Payroll, Payables and Purchasing.
The second situation is the #2 position in a larger practice. The title could also be Assistant Administrator or Operations Manager. This person is responsible for all day-to-day operations, human resource functions and all department activities. S/he typically directly supervises all supervisors and leads and/or all staff if no middle management position exists.
A Site Manager or Site Administrator is responsible for one or more locations of a multi-location practice or a group of hospital-owned practices. S/he has all the responsibilities of an Office Manager for the day-to-day operations of a practice, but typically has a central support system. Duties deferred to the central support may include finance, human resources, billing and purchasing. Policies emanate from central administration, therefore the Site Manager does not have the autonomy of the Office Manager or Practice Administrator.