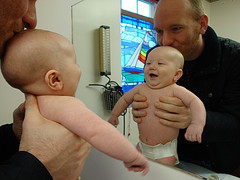 NOTE: We have just added an educational webinar on using the ABN form. This is an expanded webinar with 75 minutes of content and 15 minutes of Q & A with the attendees. Click here to go to our webinar page for more information.

—————————
CMS recently released an updated version of the Advance Beneficiary Notice of Noncoverage (ABN) (form CMS-R-131), which will replace the 2008 version of this form. The 2008 and 2011 ABN notices are identical except that the release date of "3/11" is printed in the lower left hand corner of the new version.  The ABN is used by all providers, practitioners, and suppliers paid under Medicare Part B, as well as hospice providers and religious non-medical healthcare institutions (RNHCIs) paid exclusively under Medicare Part A.
Providers and suppliers may use either the 2008 or 2011 version of the ABN through the end of 2011; beginning Sunday, January 1, 2012, they must begin using the 2011 version. ABNs issued after Sunday, January 1, that are prepared using the 2008 version of the notice will be considered invalid by Medicare contractors.  2008 versions of the ABN that were issued prior to Sunday, January 1 as long-term notification for repetitive services delivered for up to one year will remain effective for the length of time specified on the notice.
Okay, here's the good stuff that I get questions on all day every day – how do I use the ABN?
First, let's understand WHEN you should use the ABN.
The ABN's reason for being is to allow the physician practice to collect from the patient for services that the patient wants, but are not covered by Medicare. Practices are not expected to give ABNs to patients to cover services that are never covered (called statutory exclusions), however, many find that it helps the patients understand when they receive a bill for the service. (Note: you may collect in full at time of service if you so choose.) With 2011's new wellness benefits, some of the primary reasons for using the ABN have gone away. Patients receive a Welcome to Medicare Visit (not an exam) within the first 12 months of the effective date of Medicare Part B coverage. Medicare beneficiaries are eligible for one Annual Wellness Visit (AWV) every 12 months after they have had Medicare Part B for more than 12 months. This is a "visit" and not a physical examination.