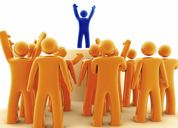 As a consultant, I have been asked to go into many organizations where I have found important projects lingering or causing such stress for a supervisor that they feel paralyzed.  No one is happy.  Not the leader asking for results or the supervisor who is feeling overwhelmed.
Regularly scheduled meetings with your leader should be your norm.
Make an agenda for this meeting so that you are sure to cover all important issues.  Use this time to go over project lists, comment on what you feel are your priorities, and give project updates.  Having a discussion on the priority of the work will help you gain insight to the "bigger picture" and how your work affects the overall organization.
The following steps provide a framework for supervisors having difficulty moving forward with a project.