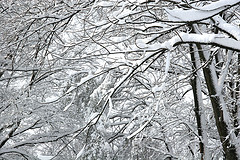 I lost power in my home and office from last Saturday until this past Thursday evening due to an unexpected snow storm.

What did I learn about being resilient over these last few days, and what are the lessons that can benefit all leaders?
My family and I returned to our home last Saturday to find that we did not have heat or electricity.  Our assumption was that the utility company will have the problem resolved within 24 hours. After the 24 hours came and went, we realized that we may have to deal with this problem for several days (that's the information we were being given by our neighbors).
Each night, my wife, son, and I  would wear several layers of clothes to deal with the cold environment. We listened to the radio and tried to make the best of the situation.  During the day I found myself going to Starbucks so I could have e-mail access and charge my phone. This became my office. I found neighbors to be very helpful, with everyone looking to pitch in and assist each other. This routine continued until the lights came back on Thursday.
What are the lessons learned during this period?