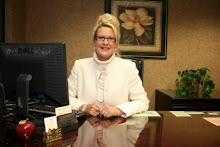 MMP: Welcome to Manage My Practice, Denise! What is your background in medical practice management?
DPT: My first job in healthcare was in 1975  (I was 5 years old). I was hired to work in radiology having high hopes of developing….but that never happened. I memorized the color coded X-ray jackets and turned locating them for physicians into a challenging game. Because of my consistently positive attitude, I was promoted to receptionist. Later I was recruited to work for a general surgery practice in town where I was employed for the next 32 years. During that time, I was promoted to Administrator and became Certified in Healthcare Management through Pfeiffer College.
MMP: Tell me about the process of becoming a healthcare comedienne.
DPT: Humor has escorted me through many difficult times in my life. By finding the "funny side up" in a situation, I am able to keep an open mind, learn from it and share with others in training programs.  A good example ~ when I introduce my contagious characters, i.e. "Ima Gossip" as the person that will keep the bad news stirring and "Shirley Knott" who will surely not schedule another patient for that doctor, I am able to introduce some uncomfortable issues in a way that everyone can appreciate….."Justin Case" they work around them.

MMP: Things are very gloom and doom in healthcare today – how do you take such a tough subject and inject humor into it?