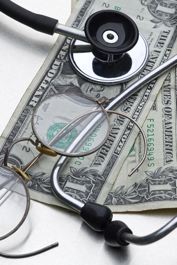 If you don't have the following ten items on a manual checklist or in your EMR, you might want to add them.  Any time I hear someone list things that improve quality of life and downstream health, I think to myself "This is future reimbursement criteria."  Actually, several of these are already included as measures in the 2010 PQRI (Physician Quality Reporting Initiative) list.
I came across this list on the physician blog "The Examining Room by Dr. Charles".  Dr. Charles writes:
"These items were chosen by the National Commission on Prevention Priorities, and highlight those preventive services including immunizations, screenings, preventive medications, and counseling that give "the most bang for the buck."
Discuss Daily Aspirin Use
Childhood Immunization
Smoking Cessation Advice and Help to Quit
Screening for Alcohol Misuse and Brief Counseling
Colorectal Cancer Screening
Hypertension Screening
Influenza Immunization
Vision Screening
Cervical Cancer Screening
Cholesterol Screening
Get ahead of the curve, and discuss with your providers how you can give your patients more bang for their preventive care buck by making these ten items standard questions in your practice.
Read more on Dr. Charles blog here.