We are very excited today to announce two new products available for purchase in the Manage My Practice store!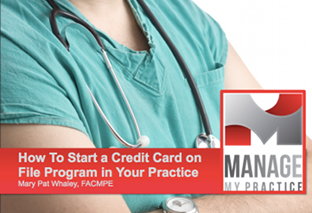 We have had a lot of requests for the recorded version of our Webcourse – Creating a Credit Card on File Program in Your Practice, and we are excited to say that it is now available! For $29.95 you will receive the 60 minute video recording of the course, as well as the course slide deck, and the action pack of handouts to get you started on the program including:
Worksheet for Credit Card on File Program Return on Investment
Staff Script & Role Playing Suggestions for Staff Training
Sample Security Policy to Comply With PCI Guidelines
Credit Card on File Program Timeline Worksheet
Credit Card Program Comparison Worksheet
Patient Handout #1: Information About Our Credit Card on File Program & Discontinuation of Statements
Patient Handout #2: What is a Deductible and How Does It Affect Me?
We are also very excited to be adding a second book to our store: Heart and Soul in the Boardroom by Bob Cooper. We have been thrilled to reprint some of Bob's great posts about leadership, and are now honored to sell his book. Heart and Soul in the Boardroom is a book that champions honesty, authenticity, and a management style based on a real assessment of success – both in the workplace, and in the workplace's relationship to your life.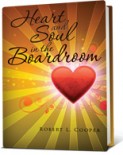 Get Bob's Book for $14.50 plus 2.95 shipping and handling. And if you are buying for a group (or department, or your staff!) Bob will ship them free with the purchase of three or more!