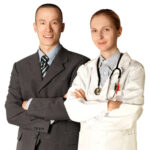 It is my pleasure to announce Manage My Practice's first product in our new Manage My Practice Tools section  – MMP FileConnect.
MMP FileConnect is a simple and affordable way to:
Increase efficiency in your practice by reducing workflow issues and duplication of paperwork.
Cut expenses for on-site and off-site storage.
Promote collaboration and teamwork between departments, locations and employee silos.
Reduce risk by keeping critical documents secure.
Access files anywhere from any browser or mobile device (especially great for the docs!)
How does MMP FileConnect work?
MMP FileConnect is similar to a new and improved filing cabinet that resides in the cloud (a secure Internet domain), not on your server. It allows the administrator to design a folder and file system and assign users permissions (view, upload, download, edit, etc.) in their practice.
The administrator can set up groups of users with the same permissions, and can easily add or delete users, change existing groups' settings, or change file organization. In my practice I have a structure something like this:
Employees

Office Forms such as PTO requests, fax cover sheets and reimbursement requests

Patient Forms such as demographic sheets and financial agreements

Calendars such as call calendars, vacation calendars and birthday calendars

Lists & Reference Documents –  internal and external phone lists, practice abbreviations, and insurance plans the group participates with.

Physicians & Administrator
Billing Staff

Provider CME records
Provider Credentialing Records
Payer Contract Summaries

Administrator

Personnel Files
Payroll Files & Compensation Spreadsheet
Contracts & Leases
You can also invite external users to be a part of MMP FileConnect for easy communication surrounding documents. My benefits broker is a user so I can place new employee benefit enrollment forms on FileConnect and she is immediately notified without me having to send an email.  She can download the enrollments and process them immediately. An added benefit is that I have a tracking record of when I placed the forms there and when she picked them up.
What about the security of MMP FileConnect?
MMP FileConnect is built on the Box.net platform.  Box knows the healthcare industry is one of the world's most demanding marketplaces when it comes to data security and customer privacy. The implicit trust between a provider and a patient is critical to all stakeholders. With MMP FileConnect and Box you can be sure that your stored data is absolutely safe. Box has a SAS 70 type II certification, meaning it has been independently audited by the AICPA for sensitivity in handling healthcare data. All of your data on MMP FileConnect is 256-Bit AES encrpyted both in storage and in transfer. There is the capability for a complete audit, giving you the tools to monitor and manage your information with peace of mind. On top of that, Box.net has a guaranteed uptime of 99.9%, so you can count on your data being there anytime you need it.
Do I have to logon to a website every time I want to use a document?
One of the best features of MMP FileConnect is the desktop file sync feature. Every user can keep a desktop folder of most-used files and folders stored on FileConnect and can utilize them without going to a browser or using a login and password. Anytime a file is updated by any user, the newest version automatically syncs to the appropriate desktops.
What else can it do?
For more ideas on how to use this amazing tool, see my post on "76 Ways to Use the Cloud" here. Every one of those 76 ways is doable with MMP FileConnect!
What does MMP FileConnect cost?
A very affordable $25 per month per user, with discounts for paying annually and for groups of 50 users or more.
Tell me more!
For more information and an opportunity to try MMP FileConnect free for 28 days, click here to contact us.
Image via Wikipedia