Asking for feedback can be tough.
Asking for feedback as a physician or care provider is unexplored territory for most practices.
My primary care provider has a simple and effective way to ask patients to leave feedback online.
At the checkout desk is a small pile of papers that look like this: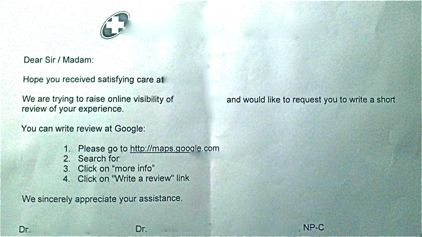 Note that the paper is simple, not slick, and the wording is humble. No one at the practice has ever called my attention to the little pile of papers.
Here is the text of the form:
_______________________________________________________
PRACTICE NAME
Dear Sir/Madam:
Hope you received satisfying care at PRACTICE NAME.
We are trying to raise online visibility of PRACTICE NAME and would like to request you to write a short review of your experience.
You can write a review at Google.
Please go to http://maps.google.com
Search for "PRACTICE NAME CITY STATE"
Click on "more info"
Click on "Write a review" link
We sincerely appreciate your assistance.
DR. SMITH          DR. JONES        DR. BLACK
________________________________________________________
You could also direct patients to:
Yelp
Angie's List
Your Facebook page
Any physician evaluation website
Just don't ask patients to place comments on ALL these places. Choose one location at a time.
Don't fear negative comments. They will happen because no one is perfect. What will set you apart from others is your ability to answer concerns and resolve issues in a real way.