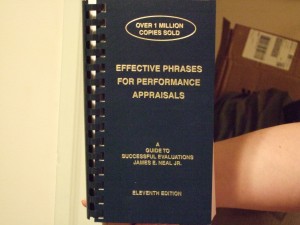 One of my favorite books of all time is "Effective Phrases for Performance Appraisals, A Guide to Successful Evaluations" by James E. Neal, Jr.  I have purchased many editions of this book through the years and I typically supply a copy of it to everyone in my practice who performs evaluations.
The contents of this book include:
Effective Phrases (in 63 categories including accuracy, development, interpersonal skills, and motivation)
Two Word Phrases (such as competing priorities, diversified approaches, fully prepared and team performance)
Helpful Adjectives (such as adaptable, capable, perceptive, and systematic)
Helpful Verbs (such as accomplishes, adheres, determines, and establishes)
Performance Rankings (such as exceptional, unsatisfactory, and distinguished)
Time Frequency (such as always, usually, rarely and seldom)
Guidelines for Successful Evaluations (rate objectively, use significant documentation and factual examples, plan for the appraisal interview, emphasize future development, and emphasize the positive)
No manager should be without this book!
Click here
to purchase a new or used copy of the book on Amazon.
For a simple, 5 question performance evaluation,
click here.