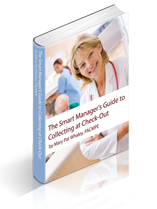 $39.95
[wp_eStore:product_id:1:end]
Is Your Patient A/R Growing Out of Control?
Frustrated With the Long Wait for Patients to Pay After Services are Rendered?
Know You Must Increase Collections at Time of Service in Your Practice?
Click on the video above for a sneak peak at this book!
Click here to see the Table of Contents for this book.
The Smart Manager's Guide to Collecting at Checkout is the solution for you! Written by medical practice management expert and prolific blogger Mary Pat Whaley, The Smart Manager's Guide to Collecting at Checkout will help you increase revenue at time of service, decrease costs of billing staff and sending statements, and decrease the headache of wondering why some patients refuse to pay until you turn them over to collections!
The Smart Manager's Guide to Collecting at Checkout is a comprehensive resource for the medical practice manager who wants to add a Front-End Patient Collection System to their practice. This book will guide you from planning to implementation with information geared for both the novice and the experienced practice manager.
The Smart Manager's Guide to Collecting at Checkout tells you all you need to know, including:
Differences between front-end and back-end collections
Are you hitting national benchmarks for collections?
Looking at technology to make over-the-counter collections a reality
Bringing together your team for collections, including hiring a financial counselor
Training your staff to comfortably collect money at check-in and check-out
Also included in the package are the Worksheets, Samples, and Templates you'll need to implement your Front-End Patient Collection Program.
Provided Worksheets Include:
Budget template for a front-end collection program
Configuring staff time and assignments for the program
Calendar for setting a time line to implement your collection program
Answering patient questions (FAQ)
Credit Card Payment Plan Billing Agreement
All worksheets can be printed from the book itself, and are also included with your download in Microsoft Word format (.doc)
Customer Testimonials
"As a practice administrator, I hate patient collections. It is the most uncomfortable situation doctors' offices have to endure. But our current healthcare climate has forced medical practices to be collectors in addition to medical providers.
Fortunately, there is help. Mary Pat's The Smart Manager's Guide to Collecting at Checkout is a comprehensive, practical, step-by-step, shovel-ready patient collection protocol that can help practices' implement this difficult, tricky and delicate undertaking."
Brandon Betancourt
Practice Administrator, Salud Pediatrics
Algonquin, IL
and author of Pediatric Inc
"I highly recommend Mary Pat Whaley's book: "The Smart Manager's Guide to Collecting at Checkout" to medical practices exploring ways in which to improve collections. Due to monthly receipts that are continuing to decrease, this book is extremely helpful for existing practices that wish to take a more proactive stand in the restructuring of their collection policy. It is also a great tool for start up practices. In this book, the step by step processes are laid out for the practice, increasing the likelihood of physician and employee buy-in. By including the staff in brainstorming sessions and setting goals as described in the book, everyone becomes an important player in the process.
Questions that would be asked by the practice, physicians and patients are already addressed along with the suggested response, which is extremely helpful. Mary Pat, thank you for making this very important guide available at our fingertips. I eagerly recommend this book."
Denise Price Thomas
DPT Consulting & Training
Keynote Speaker / Presenter
aka "Gladys Friday" ~ Healthcare Comedienne
www.denisepricethomas.com
wwwgladysfriday.blogspot.com
"This book has the steps, tools and resources that can be utilized as soon as you open the book, and every day thereafter!"
Susan Childs, FACMPE
Evolution Healthcare Consulting
www.evohcc.com
Instant Download – Get Started Today!
The Smart Manager's Guide to Collecting at Checkout is provided as an electronic book, in Adobe Acrobat format (PDF). After purchasing the book, you will receive an email that contains the links to download the book so you can get started today!
[wp_eStore:product_id:1:end]
You will receive an email with the download links within 15 minutes of your purchase. If have not received your email, contact me at marypatwhaley@gmail.com and I will be happy to send you a copy.
Note: Adobe Reader is needed to view the book. It is available free of charge from the Adobe Website, simply click here to download Adobe Reader and follow the on-screen instructions.
Contact The Author For Support
Please feel free to contact the author if you have any trouble purchasing or using the book. The email is marypatwhaley@gmail.com.
Reprint Rights are available – contact the author for information.
About the Author
Mary Pat Whaley is Board Certified in Healthcare Management and a Fellow in the American College of Medical Practice Executives. She has worked in healthcare management for 25 years.